All about Phu Quoc Island
Phu Quoc is the largest island in Vietnam, located in the Gulf of Thailand, 45km from Ha Tien and 120km from Rach Gia by sea. This island's known as the precious stone of Vietnam tourism because of the endless blue ocean, vast national park, and gorgeous sunsets. Hence, it's considered as a "Pearl of the Southern sea area".
GENERAL INFORMATION ABOUT PHU QUOC
Population: 107,000 (2019)
Area: 593.05 sqr. km (Municipality)
Province: Kien Giang
Ethnic groups: Viet (Kinh), Hoa, Cham, Khmer,…
Phu Quoc Travel Tips
Source: Toa Heftiba
1. The best time to visit Phu Quoc Island
Good news is you can visit Phu Quoc any time of the year. Phu Quoc has a tropical climate. There are only really two seasons this island has to deal with.
Dry season
The dry season starts from October and continues through March. If you want to avoid the rain, you should plan your trip to Phu Quoc between November and March. However, as it's also the peak season, everything includes air ticket to accommodation and more will be at a higher price than normal. When October nears its end, the wet season will be almost over too. Rain happens occasionally, the sky's clear, and the ocean's calm again. Therefore, you can visit Phu Quoc during this month to avoid the high season.
The weather in Phu Quoc is basically hot and humid all year round, especially during April and May, the hottest months of the year. It's necessary to bring a hat, sunglasses and summer clothing.

Source: Florian Hahn
Wet season
During the wet season (April – September), rain happens frequently on the west coast, while the east coast is calmer. Storms are not unheard of either. Big winds and heavy rain often occur in July, August, and September which will cause some disadvantage to your trip. For example, muddy roads make it more slippery to ride a motorbike, and diving and surfing will be a big no-no.
However, this time of the year, the services in Phu Quoc become a lot cheaper, which is suitable for those traveling on a low budget. All you need to do is be prepared for it. Don't forget to carry a poncho, insect repellent, flip-flops, and a waterproof bag for your phone/backpack. By the way, girls, it is a must to use waterproof cosmetics.
2. Traveling around Phu Quoc
Phu Quoc National Park
Phu Quoc is an evergreen island. View from above, Phu Quoc covers green colours, a variety of resplendent green colours that mix altogether.
Situated in the northeast of Phu Quoc Island and surrounded by the coastline, Phu Quoc National Park has a total of 31,422 ha, owns a rich ecosystem of primeval, secondary and indigo forests. The flora system in the park is very plentiful with more than hundreds species of wood (melaleuca, beech foliage,etc.), species of orchids (Van Hai Lan) and precious herbal species. Besides, the fauna system is also diversified, including 30 species of mammals and 200 species of birds and 50 species of reptiles which many species were listed on Vietnam's Red book and the IUCN list.
Vinpearl Land Phu Quoc Amusement Park
Vinpearl Land Amusement Park Phu Quoc is a massive entertainment hub that contains several sections, including an outdoor water park, outdoor and indoor arcade centres, an aquarium, and shopping street. It's an incredible resort that is absolutely the best family friendly entertainment centre on Phu Quoc Island.
Located near Dai (Long) Beach, Phu Quoc District, about 25km north of Phu Quoc International Airport. The star attraction of Vinpearl Land Phu Quoc is water park, which combines a man-made beach, amusement rides, family section, and kids' zone.
Daily street performances, mermaid shows, water musical shows, flash mobs and traditional dances are also held between 16:30 and 20:30, making it an ideal option for travelling families looking to enjoy a fun-filled day on Phu Quoc Island. Visitors can also find a wide range of souvenirs at Vinpearl Land's Shopping Street, from beachwear and casual apparel to authentic jewellery and local handicrafts.
Tickets to Vinpearl Land Amusement Park are priced at VND 500,000 for adults and VND 400,000 for children above 1 and below 1.4 metres in height and over 60 years old.
Vinpearl Safari Phu Quoc
Located in Long Beach area, Phu Quoc island District, Vinpearl Safari Phu Quoc is the first safari and the only one in Viet Nam built with the model of the world safari parks to care and conservation wildlife.
Source: Phuquocislandguide.com
With a total area of nearly 400 ha, Vinpearl Safari Phu Quoc is a home to 400 species of plants, and 2000 wild animals representing 130 different species, many of which are considered rarely such as: Bengal tigers, Arabian gazelles, black and white lemurs, flamingos, etc. It consists of 2 main zones:
Open zoo surrounded by a moat, creating a naturally harmonious habitat  and enabling the most authentic and lively view to the visitors. You can discover the Primate World with the presence of Silver Langur, Pile Gibbon; the Ungulates area  with the typical representatives such as Pronghorn, Black Antelope, Gaur,etc; the Bird Park with three distinct themed gardens namely Peacock, Stork, and Blackbird, combined with Flamingo Lake
Opening hour: 9:00 – 16:00 daily
Wildlife park: Spreading over a large area with an abundant plant system, the Wildlife park meets the rigorous standards of the Safari model. Each subdivision in the park is a different habitat ensuring the suitability with biological behavior of each species. What's more interesting than the visitors being able to closely observe lions playing in the hay, giraffes crossing the road, rhinos roaming around and drowning themselves in wet mud or waterbucks suddenly pricking their ears up to the roar from "the Lord of the forest", etc.
Opening hour: 9:00 – 16:00 daily
Admission fees to Vinpearl Safari are priced at VND 500,000 for adults and over 1.4 meters and VND 400,000 for children above 1 and below 1.4 metres in height and over 60 years old. Under 1m, ticket freed.
3. Visa access
A big bonus for Phu Quoc: Tourists to Phu Quoc can visit visa-free for up to 30 days and access from London just got easier with last month's launch of direct flights from Gatwick to Phu Quoc International Airport, the first direct service from Europe. The island forms a calm base from which to explore other more hectic and tourist-heavy parts of the country, such as Ho Chi Minh, which is just an hour's flight from the island, while the capital Hanoi can be reached in just over two hours by plane.
Check out this link for more information.
4. Where to Stay in Phu Quoc Island
Like most services on Phu Quoc, accommodations are notably more expensive than the mainland. While several smaller dorms and other budget lodging are available, local developers recognise Phu Quoc' immense potential as a tourist destination so the accommodation fee will continue to increase.
Source: Nhật Vũ
Under VND 300,000
Lana Land Homestay Phu Quoc, Tel: 098 726 17 70
Phu Nam House – Resort 
Sunny Backpackers
VND 300,000-1,000,000
Phu Quoc An Guesthouse, 122 Tran Hung Dao, Tel: 09/3962-2299
Brental Phu Quoc Hotel, 118 Tran Hung Dao, Tel: 0297 3848 588
Moon Resort, 82 Tran Hung Dao, Tel: 0297 399 4520
Langchia Village Resort, Tran Hung Dao, Tel: 0297 399 2212
VND 1,000,000-2,100,000
Thanh Kieu Resort, 100C/14 Tran Hung Dao, Tel: 0297 384 8394
Bo Resort, Le Thuc Nha St., Ong Lang, Tel: 0297 3986 142
Safari Phu Quoc House Hotel, 40 Tran Hung Dao, Tel: 0297 399 9797
Sea Star Resort, 98/2 Tran Hung Dao, Tel: 0297 398 2161. Website: www.seastarresort.com
Source: Bí Phạm
Over VND 2,100,000
Cassia Cottage, 113/5 Tran Hung Dao, Tel: 0297 384 8395
Kim Hoa Resort , 88/2 Tran Hung Dao, Tel: 09/0630-2916
Coco Palm Resort, Le Thuc Nha St., Ong Lang, Tel: 0297 398 7979
Chen Sea Resort and Spa, Duong Dong, Tel:  0297 3995 895

Source: Vinpearl Resort
5. Phu Quoc Island's Food and Culture
Culture
With an economy still based around fishing and agriculture, the island is dotted with sleepy villages whose claim to fame is fish sauce, which is said to be the world's best. Fish sauce is a traditional Vietnamese dish and they even export it to Canada, Japan, and the USA. Visitors can watch the production process of the sauce and buy one or two bottles for yourself in the biggest production in Duong Dong city.
Near the city there is another landmark of the island – Cay Dua Prison or Coconut Tree Prison. This is the biggest local prison, which is now open to the public.There is a small museum on its territory, and the barracks and the watchtowers are full of mannequins, representing the brutality of prison guards against the prisoners. Those who were against the official government, were sent here during the civil war. The scene is peculiar, to an acquired taste, but it shows the truth about the penal system quite vividly.
Night market is also a kind of a landmark. Nowhere else in Duong Dong the Vietnamese culture can be seen as well as it is here. It opens its doors at dusk.
Food
Phu Quoc island is not only a paradise for beach lovers but also for seafood fans. Seafood in Phu Quoc is cheap and fresh and succulent. These 5 incredibly delicious food are waiting to be eaten.
1. Raw herring salad
Shredded coconut and raw fish will be mixed with mint and onion, then wrapped with fresh vegetables in rice paper and dipped in fish sauce. You can also pick up pieces of raw fish, vegetables, coconut and then wrap them all with rice paper.
2. Ham Ninh Flower Crab
A large crab is not as tasty as the smaller ones. Therefore, you should choose the medium – size that there are about 6-7 flower crabs in a kilogram. In addition, if you like crab – roe, choose female crabs. If you like meaty ones, choose male crabs.
Grilled Bien Mai Scallop Sinew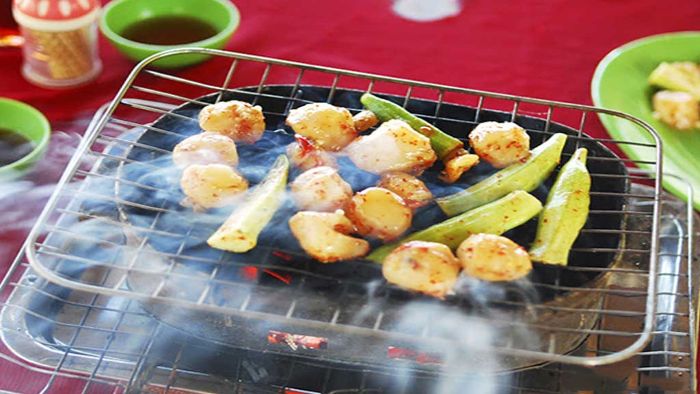 The best way for gourmets to enjoy Bien mai sinew is to grill it then to combine scallop with a mixture of chili and salt which gives you the pristine flavor of the sea. Tourists can also enjoy delicious Bien Mai sinew porridge with sinew's slightly sweet taste and warm aroma of shallots and peppers.
Boletus Soup
If you come to Phu Quoc in dry season, you are just able to enjoy dried or frozen boletus which isn't good at all. While fresh boletus are cooked with shrimps, fish and squids, the dried ones are stir – fried with abalones or sea cucumbers. The soup is flavored with the sweetness of boletus, fragrant aroma of black pepper and becomes much tastier when being served with Phu Quoc fish sauce.
Raw Barracudas Salad
The raw fish, sweet and a little bit chewy is mixed with lime juice and wrapped with rice paper and herbs. The mixture of salad, fish and sauce creates an unforgettable taste for all foodies.
6. Transportation
 Getting there
Air
Phu Quoc International Airport (PQC) receives multiple daily flights from Saigon (1hour, VND 570,000-1,720,000 one way), Can Tho (50 mins, VND 1,190,000 on-way) and Ha Noi (2 hours, VND 1,200,000-3,500,000)
Both Vietnam Airlines and its budget competitions namely VietJet Air and Jestar fly between Saigon and Phu Quoc
Taxi fee from the airport to Duong Dong and Long Beach costs VND150,000 – 170,000
Boat
High Speed boat Super Dong
(10 30 thang 4 St., Tel: 0297 398 0111)
Source: Anton Shuvalov
Getting around
Vehicles for Hire: Construction is everywhere, so novice drives might want to stick the passenger's seat/ Both Lang Chia Hostel and Phu Quoc Guesthouse can arrange reliable vehicle rentals. You can ask your hotel for driver recommendations.
Taxi and Motorbike taxi – Xe Om: At both the harbor and the airport, xe om are sure to find you before you find them.
You also call a taxi via contact: Mai Linh (tel. 0297 397 9797) and Vinasun (tel.0297. 3 977 978)
-Clara-