Traveling as a backpackers means taking adventure & trying new things. Make sure you travel safe.
One of my friends used to have problem with food poison (not serious) and unfortunately he had to move from hospital to hospital because most of the ones he visited don't speak English. He ended up visiting the Family Care hospital where got English speaking doctors, located near Diamond plaza and his bill is insanely high.
Here, I would like to compose the list of best hospitals for travellers in Ho Chi Minh city.
Ho Chi Minh City has a number of state-owned and private hospitals with English-speaking staff. With backpackers are visiting this place who get sicks, hospital is surely a place you should know. If you have illness when travelling HCMC, please read below to check the list of some of the best hospitals in Ho Chi Minh City.
Vinmec Central Park
Inheriting the prestige and illustrious quality of Vinmec Healthcare system, Vinmec Central Park International Hospital is the third hospital in the system of VinGroup to be officially put into operation. With 178 beds, 16 specialties and several support service centers, the whole system is invested with the most modern, advanced facilities with international standards.
Address: 208 Nguyen Huu Canh, Ward 22, Binh Thanh District, Ho Chi Minh
Phone Number: 028 3622 1166
Opening hours: 24 hours
Website: Vinmec.com
Source: vinmec.com
An Sinh Hospital
An Sinh Hospital is one of the leading general hospitals according to international standards, providing high quality medical services. With modern facilities and equipment, and qualified, experienced and dedicated physicians, An Sinh Hospital The hospital has 150 sick beds, built in a lot of cool green trees with area of ​​flower gardens and ornamental plants. The hospital is a building with beautiful architecture, in harmony with the landscape and surrounding environment, ensuring green and clean standards. Moreover they have english speaking staffs and the service is quite good.
Address: 10 Tran Huy Lieu St., Phu Nhuan Dist., Ho Chi Minh City
Phone Number: 028 3845 7777
Opening hours: 24 hours
Website: ansinh.com
City International Hospital
Established in 2014 with 21 clinical and subclinical specialties such as Obstetrics and Gynecology, Pediatrics, Surgery, Cardiology, Otolaryngology, Ophthalmology, Urology, Digestion Hepatology, Internal Medicine … City International Hospital has 320 beds that brings the best quality medical services to people through quality management programs . The friendly, experienced  and dedicated team of doctors and nurses will give all patients the best care condition during the treatment process.
Address: 3 17A St., Binh Tan District, Ho Chi Minh City
Opening hours: 24 hours
Phone Number: 028 6280 3333
Columbia Asia International Hospital
 Columbia Asia International Hospital is located near the central business district of Ho Chi Minh City. Founded in 1998, it is the first private hospital in Vietnam direct invested by 100% foreign investment fund with 20 beds designed to fill the daily needs of patients, from Medical Services, Critical Care Services, Diagnostic Services, Surgical Services, Specialty Services, and Customer Services.
Address: 01 No Trang Long St., Binh Thanh District, Ho Chi Minh City
Phone Number: 028 3803 0678
Opening hours: 24 hours

Source: www.columbiaasia.com/vietnam
Franco-Vietnamese Hospital
Located in District 7 of Ho Chi Minh City, FV Hospital is well-known for its international standard of care, commitment to clinical quality and patient centric service. With more than 950 service staff, including 130 Vietnamese and foreign doctors, FV provides care across more than 30 medical specialties at its 220-bed hub hospital.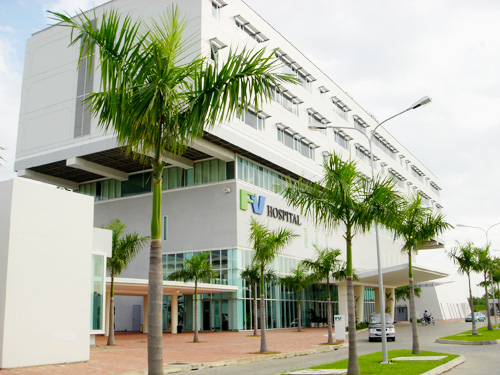 Address: 6 Nguyen Luong Bang Str., Saigon South (Phu My Hung), District 7
Phone number: +84 285 411 3333
Website: http://fvhospital.com/
Backpackers, 2nd Jul 2019.